Using traditional and modern healing techniques to feel your best
Published in Natural Pathways magazine
Written by Brett Belau | Date: February 17 2012 23:15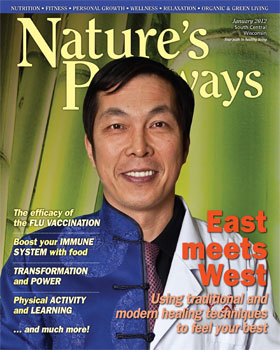 For thousands of years, people have turned to Traditional Chinese Medicine to treat and heal a variety of medical conditions.
Yet, while Western medicine has not been in existence as long, it is often seen as the gold standard in terms of medical care.
But Dr. XiPing Zhou sees great value to both approaches.
"I believe in integrated medicine," Zhou explains. "Both Eastern and Western medicine have a place in health care and I strongly believe that 21st century medicine should be balanced medicine. Good medicine is a combination of Eastern and Western medicine."
Zhou earned a doctorate in Oriental Medicine (OMD), a 5-year degree that allows him to practice both types of medicine there. He is also a licensed acupuncturist with a bachelor of science degree in medicine, which he earned from HeiLongJiang University in the Peoples' Republic of China. In July 1993, while serving as chief physician and professor at HeiLongJiang Medical College, Zhou was asked to visit the United States to speak at the National Conference of Acupuncture about his success treating stroke patients with paralysis. From 1994 to 2000, he taught acupuncture and Chinese medicine at the Midwest College for the Study of Oriental Medicine in Racine. In 1999, he joined the staff of Columbia St. Mary's Hospital in Milwaukee, becoming one of the very first acupuncturists on staff at any Wisconsin hospital.
Zhou established his private practice in Madison and Milwaukee in 1996 with only a small 500-square-foot office on University Avenue. Over the years, Dr. Zhou has successfully developed a reputable clinic and teaching institution (East-West Healing Arts Institute). Today his Clinic is a 6,500-square-foot natural healing center including two large classroom spaces and 12 feng shui-style private treatment rooms. Currently the center has eight professional massage therapists, three licensed acupuncturists and two traditional Chinese Medicine Doctors. The school teaches therapeutic and medical massage, specializing in the integration of Eastern and Western modalities.
"The difference between our school and other schools is that we offer a complete integrated Eastern and Western massage therapy training and we have the most clinical hours in Wisconsin," Zhou explains.
The 800-hour program includes Eastern theory classes including introduction to Chinese medicine and herbology, theory of Eastern medicine and classic Chinese assessment techniques. Eastern practice includes extensive courses in TuiNa, or Chinese medical massage, acupressure point location and indication, Tuina and therapeutic massage for medical conditions and classes in Thai massage, reflexology, Zen Shiatsu and more.
Western science classes include pathology and anatomy and physiology. Western massage methods taught include deep tissue, soft tissue techniques, CranioSacral Therapy (Upledger Institute style), sports massage, prenatal massage and more. Courses in professional ethics, business practices, and CPR/First Aid meet or exceed state guidelines for these topics.
Acupuncture and massage are powerful healing and wellness tools that have the ability to increase quality of life for patients.
"Traditional Chinese Medicine may be a great solution for issues such as headache, low back pain, and fibromyalgia, for example," Zhou says. "Oftentimes, Western medicine is not as effective or cannot help with chronic pain issues."
Karen Zielinski learned of the efficacy of Eastern modalities when her daughter, Natasha, enrolled at East-West. "She started learning some of the techniques and she'd need to practice on me and I was totally impressed," Zielinski says.
About 10 years ago, Zielinski sustained numerous injuries from a car accident. Despite undergoing all kinds of traditional therapies, she had been suffering with debilitating headaches, pain, and numbness in her arm. She also became very depressed and just wanted to sleep all the time.
A self-described skeptic with a medical background herself, Zielinski decided she had nothing to lose by seeing Zhou for acupuncture.
"It was a complete turning point for me. When I walked out of that room, I could feel the energy shooting through my body," she says. "The next day for the first time in years I had no pain getting out of bed. I had energy and I felt like myself again. I'm not totally pain free, but it is much more manageable. I'm taking fewer medications and my mood swings have greatly diminished. It's been incredible. It really has."
Linda Roberts suffered from 4 herniated discs in her back. After trying epidural injections and physical therapy, she had a consult with a neurosurgeon who recommended she try acupuncture with Zhou.
"I am happy to sing Dr. Zhou's praises because he really changed things for me," Roberts says. "I feel so much better when I see him and I've recommended him to my friends, too. He's very friendly and knowledgeable and passionate about what he does. Everyone there really wants to help you feel better and that's exactly what they do."
Traditional Chinese medicines including herbs, acupuncture, nutrition guidance and therapeutic massage can also help with reproductive problems, infertility, sleep disorders, GI issues and a host of other wellness issues.
"My husband and I were trying to conceive our second child. We visited doctors for five years of fertility tests and treatments. I underwent biopsies and a hysterosalpingogram. I took all kinds of infertility drugs and tried two different types of artificial insemination, all with no success. I turned to acupuncture and herbal treatments with Dr. Zhou and two months later I was pregnant," says Veronica Jackson.
Erin Dyer has seen Zhou since 2007. She has received acupuncture treatments for pain due to osteo-arthritis, as well as nutrition counseling and help for her depression.
"I decided to go this route because I want to be as healthy as I can be and reduce the amount of medications I have to take," she says. "He answers my questions and I like how he's focused on being proactive and maintaining your health. I have taken some of the herbal remedies over the years and things for pain and have had success with those."
"What makes us different is that we treat the whole person rather than just their symptoms," Zhou adds. "It is important to develop a comprehensive treatment program for each individual because everyone is so different."