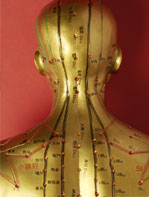 Published in Wisconsin Gazette |
Written By Louis Weisberg | Date: September 21, 2013
---
Imagine: You're lying in your shorts on a massage table, your face either pointing upward or buried in one of those massage-table doughnut holes. A practitioner enters the room and sticks tiny, hair-thin needles all over your body, turning you into a veritable porcupine. Then he or she lowers the lights, turns on some cosmic New Age music and leaves you there to ponder the universe and wonder what the hell you're doing. You might find yourself asking, as I did, "What good can possibly come of this?"
In my case, the answer to that question was "a lot." Thanks to regular acupuncture sessions, I've experienced significant pain relief and restored flexibility in my neck. I can turn my head while driving to see if it's safe to switch lanes without having to rotate my entire body – a potentially life-saving capability.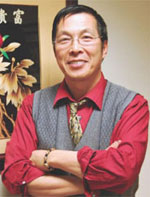 Published in ExpressMilwaukee |
Written By Louis Fortis | Date: February 11, 2013
---
In 1993, Chinese doctor Xiping Zhou came to the U.S. with minimal knowledge of English and $400. Today, with over 25 years of practice, Zhou has treated thousands of patients with physical and psychological illnesses through his integrated approach to acupuncture, herbal medicine and medical massage. Zhou established a private practice in Madison (1996) and on Milwaukee's East Side (1997) before being hired by Columbia St. Mary's Hospital (1999). He is the first acupuncturist in the state to work in a Western medicine facility.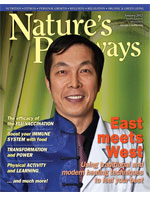 Published in Natural Pathways magazine | Written by Brett Belau | Date: February 17 2012
---
For thousands of years, people have turned to Traditional Chinese Medicine to treat and heal a variety of medical conditions.
Yet, while Western medicine has not been in existence as long, it is often seen as the gold standard in terms of medical care.
But Dr. XiPing Zhou sees great value to both approaches.
"I believe in integrated medicine," Zhou explains. "Both Eastern and Western medicine have a place in health care and I strongly believe that 21st century medicine should be balanced medicine. Good medicine is a combination of Eastern and Western medicine."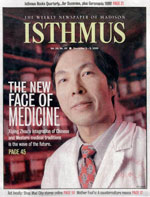 Published in Isthmus |
Written By Vesna Kovach | Date: December 3, 1999
---
Xiping Zhou, a practitioner of Chinese and Western medicine, is the first acupuncturist on staff at a Wisconsin hospital.
"Inhale," says Dr. Zhou.
Between immaculately groomed fingertips, Zhou holds an acupuncture needle: a sharpened shaft of wire two inches long and six times thicker than a human hair. Half its length is fortified with a coil of wire, a tiny hilt. A triple O-loop of wire stands straight up from the top of the coil.
As if aiming a very small pool cue, Zhou cocks his hand back from the wrist once, twice, three times. "Exhale," he says, then drives the needle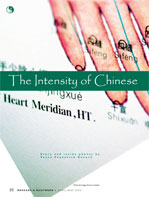 Published in MassageandBodywork |
Written By Vesna Kovach | Date: April, 2003
---
I am lying face down on a massage table. My ears are tightly covered, so that I'm deep inside a loud silence of rushing blood and muffled room tones. Explosions of pressure twang against the back of my skull and reverberate through my brain and being, over and over. I feel at first shaken apart, and then, oddly enough, powerfully relaxed — safe.
What I'm experiencing is "drumming," one of the many moves native to tui na, or Chinese massage, the world's earliest recorded form of massage. The way it's accomplished is this: Cover the client's ears